Today I have an ASOS maternity jeans try-on video and post to share.
I ordered three different styles in two sizes (8 and 10) to try and ended up keeping one pair.
I tried the Asos Ridley Jeans, Asos Lisbon Jeans and Bandia styles.
Hopefully it will be helpful to those of you who are looking for maternity jeans as I know it can be tricky! The good think about Asos is you can try on a bunch of sizes and they do free returns so I'd definitely recommend trying out a few different styles and sizes to see what works for you!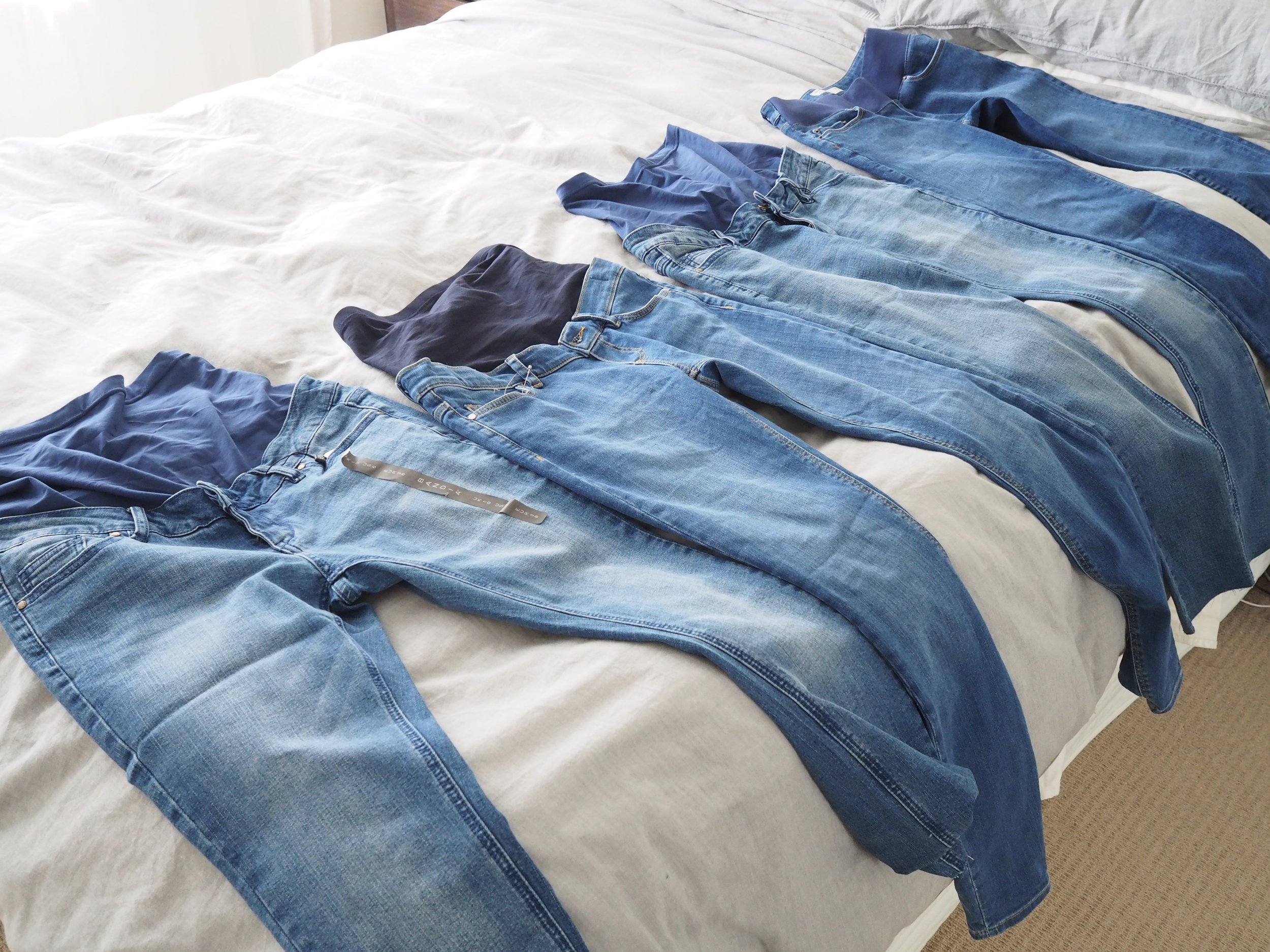 As I mentioned in the video, I don't think they're particularly high waisted, but they were a nice stretchy denim and comfy. I could quite easily fit both the size 8 and 10, but the 10 was obviously best considering the fact I'd be putting on weight throughout the pregnancy!
The petite length was really good for me (I'm 5ft 2) so if you're a shortie like me I'd recommend trying to get the petite sizing.
Although I didn't end up keeping these ones, I did like them and would have kept them if I'd ordered a different wash (they come in a variety of different washes but they weren't available in my size at that time)
They were too similar to the Bandia (see below) ones I ended up going with for me to justify keeping both though!
I haven't included a photo of these ones but you can see them in the video. As I mentioned, I was only able to order an 8 in these and they were way too tight so the sizing is definitely smaller than the Ridley Jeans above.
I struggled to get my feet through and I don't even have particularly large feet! If you decided to try the Lisbon style I recommend sizing up (potentially even 2 sizes).

These are the ones I ended up keeping. The size 8 was best for me so the sizing is much more generous than the Asos design styles.

These ones have the "over-the-bump" style band, so I didn't wear them during the start of my pregnancy (the band felt too large and hot during summer), but now I'm at 25 weeks and winter has hit, they've been great.
They are definitely very roomy and stretchy, with an extendable band (see photo below) to allow the button to be done up easily, even as you get bigger, but I don't see myself needing to use this for a while as there's still a lot of room (and I'm currently 26 weeks pregnant).
The great things about this pair is that they do have a normal button and front pockets (which a lot of maternity jeans don't) so you can wear them with shorter tops and not see the stretchy band. The one downside is that they do slip down the bum, which is annoying but seems to happen with all maternity jeans so I don't think it's actually a flaw in the design and I'd still recommend them.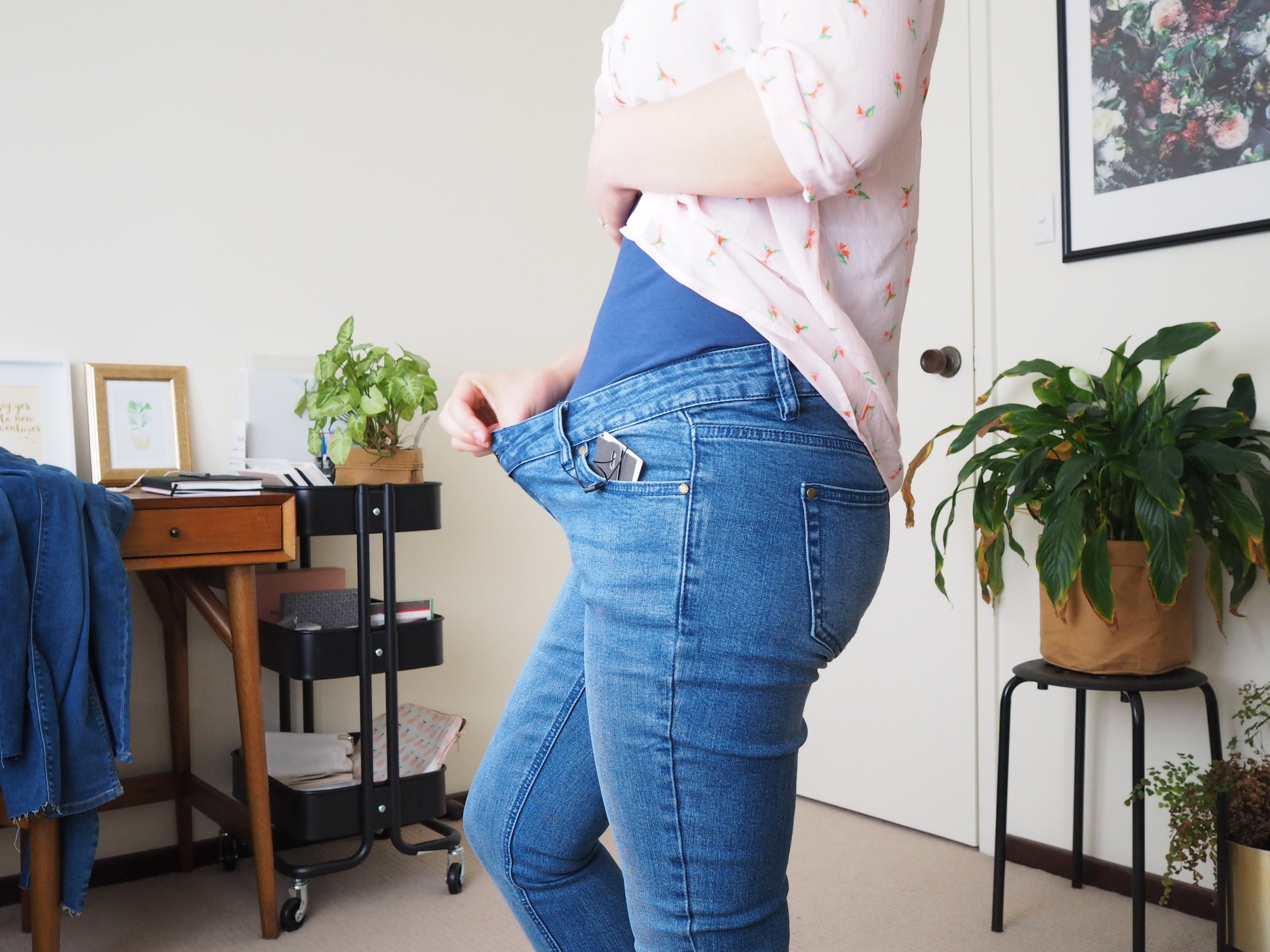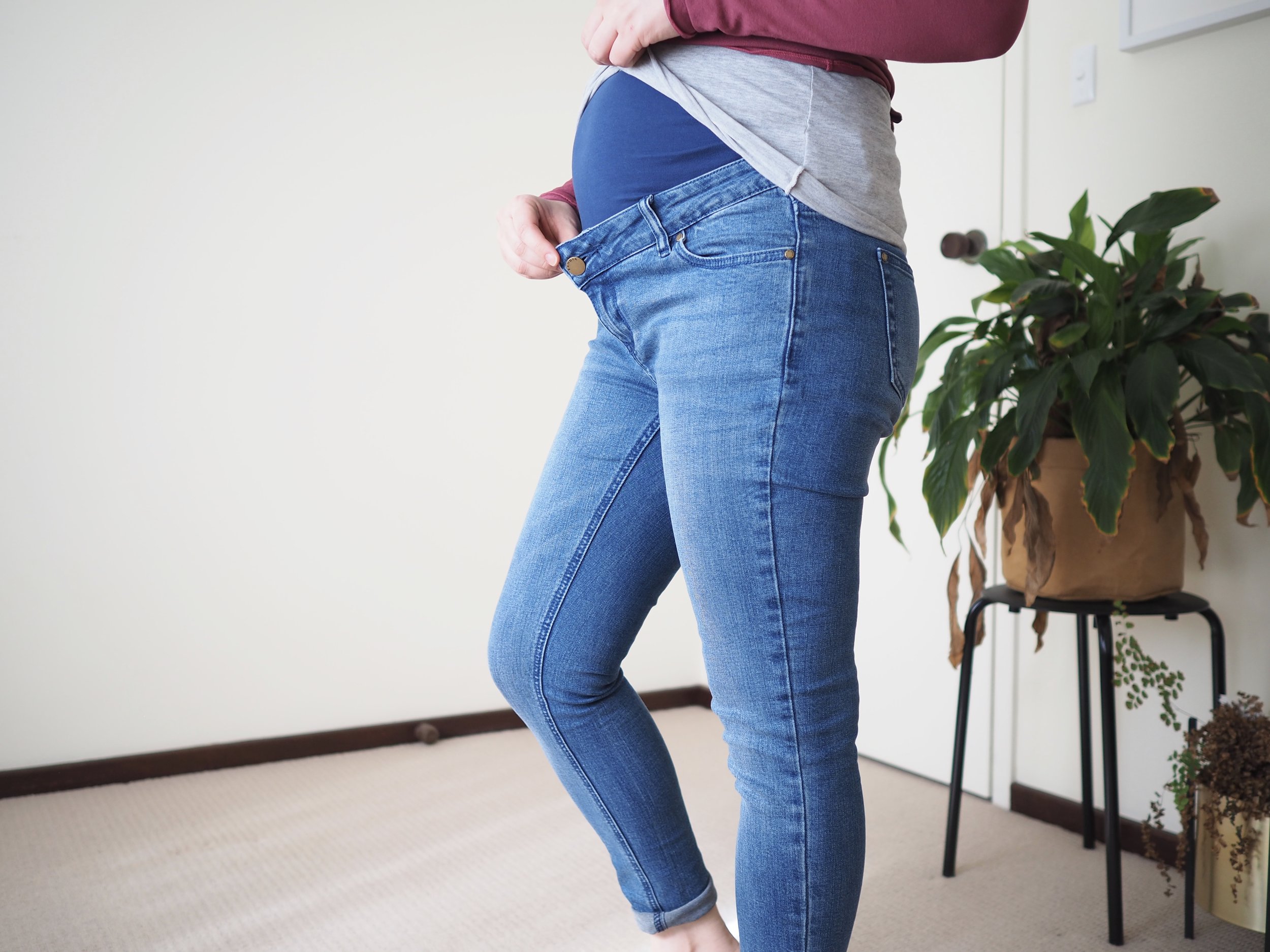 I've also been wearing jeans from a brand called Ripe Maternity (the Isla Jeggings in case you want to check them out). I'll do a separate review of these ones soon. I'd highly recommend them, although because they are an under-bump style, I'm not sure they will be super comfy for the whole pregnancy when I'm really big! For now though, they've been excellent (you can see those ones on my Instagram @laurennatalia.co or just keep your eyes peeled for a post coming soon).
Hopefully this review has been helpful for you - I show a lot more in the video so make sure to watch and subscribe if you're also searching for maternity jeans! I know I was really keen to watch a few review videos before purchasing, but there weren't many around!
If you have any pregnancy style video/blog post requests please let me know in the comments or over on Instagram @laurennatalia.co

Lots of Love
Lauren
xxx

Pin it for Later!
Want more style tips? Subscribe To The Email List!
You'll also gain access to my free Find Your Style Video Course that teaches you how to find your signature style, simplify your wardrobe and feel effortlessly pulled together everyday.