How is it that some people can just look so effortlessly put together, even when they're just wearing a "jeans and t-shirt" kinda outfit (or something equally as simple and casual)?
After a lot of playing around with my wardrobe and reading a tonne of blogs/watching countless hours of fashion youtube videos over the years (they're my guilty pleasure, I find them SO relaxing and fun!) I finally feel like I've cracked the code!
Now, don't get me wrong, I am in NO WAY claiming that I look "effortlessly pulled together" all the time (my friends and family will certainly attest to the fact that sometimes (often really) I look like a total slob. That is fine with me - sometimes you just want to be comfortable and practical!
When I do want to quickly pull together a simple, casual and comfy outfit though, that still looks really stylish and pulled together, these are some of the tips and tricks I like to employ.
It's no big, complex thing (it's fashion, not rocket science!) but the secret really is in the little details.
Making just a few little tweaks or additions to an outfit can give that "finishing touch" that takes it from something super simple (and potentially a little boring) to an actual outfit that will make you feel fab!

So here's a few of my little tips and tricks that you can use to transform any look from drab to fab (sorry, that's so corny but I just had to :p)

1) Headwear and Hair Accessories
Hats, head bands, hair clips, hair scarves… choose whichever one floats your boat. I've found one of the easiest ways to look and feel more pulled together is to add a simple accessory to your hair.
For example - take this outfit that is really very simple - black overalls, a white top, ballet flats. It would be okay on it's own and still look nice, but it's the headband (in my opinion) that adds that "cute, quirky factor" and finishes it off.
A hat is another great way to add something extra to an outfit and make it that bit more interesting. I love pairing my straw hat with dresses or playsuits in the summer and wearing this dusky pink felt one (see below) with warm cozy sweaters in winter to spice up my typical - "it's too cold for anything but jeans and jumper" look!
One of the new trends that you've probably seen all over instagram is pearl hair clips! I love the look and while I'm not someone who usually pays much attention to trends, this is one I can totally see myself jumping on, just because pearl hair accessories already suit my style and would be something I could continue wearing for years. I haven't given it a try yet but when I find the perfect one I'm sure you'll see it popping up on my instagram too :p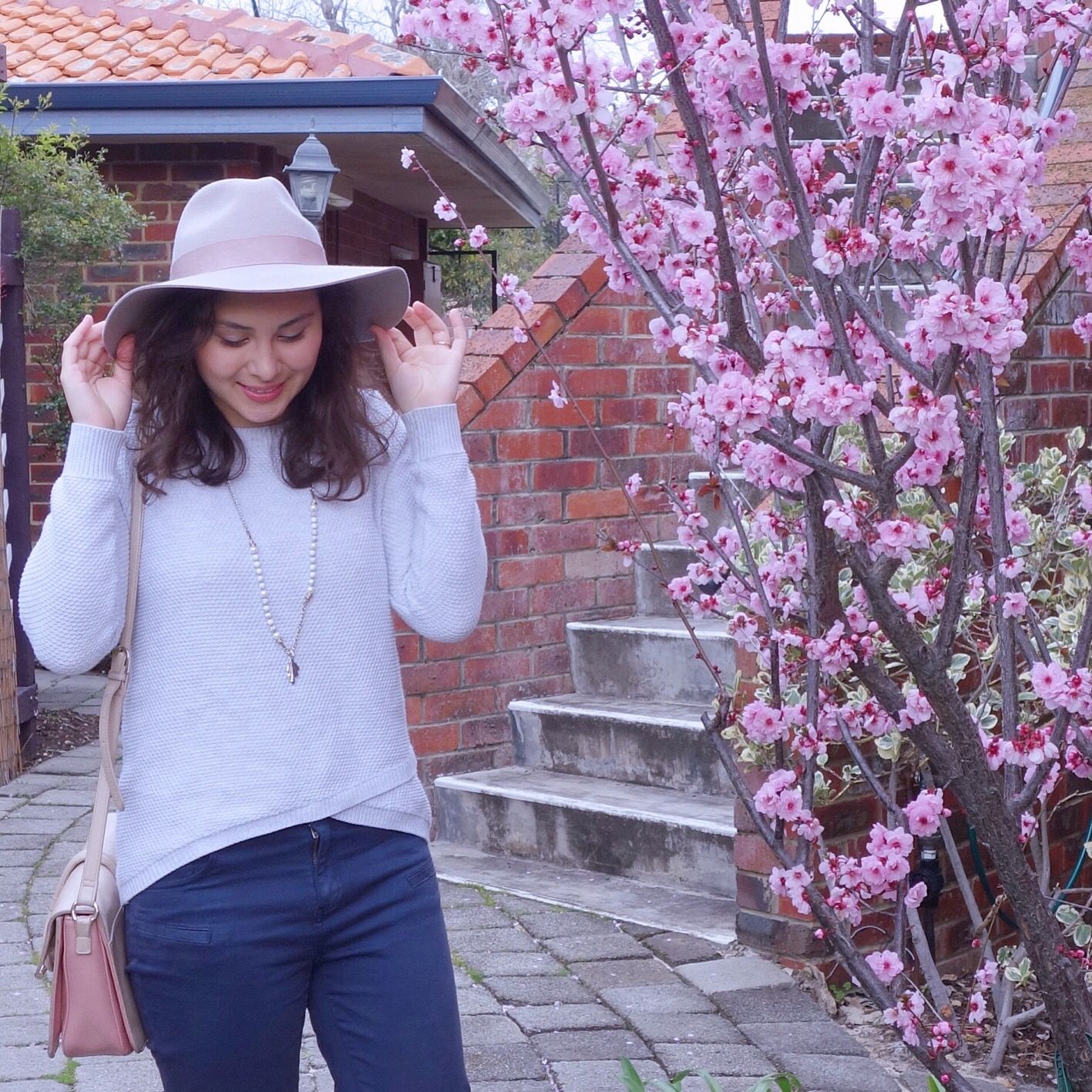 2) Staple Pieces With Little Details That Make Them Extra Special
Choosing clothing that is casual and easy to wear and also has some kind of special detailing (rather than just being a boring basic) is another way to make it super duper easy to look pulled together, because you don't actually have to add anything extra!
You just throw them on without even thinking and in themselves they make the outfit!
One example of this would be the embroidered daisies on my denim shorts. Yes they're a super casual piece, but because they have that little something extra, they're not boring and plain, they're a statement in themselves!
It might be embroidered detail on an otherwise basic pair of shorts, a jumper with sequins on it, sparkly trainers or ballet flats that have that something extra to them!
It might be a dress that is tailored and fits "just right" or has a beautiful fabric that speaks for itself - like my bright floral dress pictured below. This one is so easy to throw on, it doesn't require any thought, but it immediately looks pulled together and I always get compliments whenever I wear it!
Another example that I'm yet to add to my own wardrobe is a statement coat. My friend Jema (pictured below) has this beautiful red one, and every time she wears it I just think she looks so chic and well dressed, even if it's just thrown on over a simple pair of jeans!
The key is to look for those casual, everyday pieces that are so easy to wear, and still have an extra special touch to them. If you slowly build a collection of staple pieces like that, and eliminate the excess, feeling effortlessly pulled together becomes so much easier!
It doesn't have to be flashy or big. Even the most simple, delicate pieces can add a little extra oomph to your outfit and make you feel that little bit more special.
I have been loving wearing super delicate pieces lately, like fine necklaces and my simple gold hoop earrings that I've had since I was little (they were a gift from my grandparents).
My favourite brand for delicate necklaces is YCL Jewels. They have some gorgeous designs (and do both gold and silver, so whichever your preference they have you covered!)
You can check out my review of the brand and some of the pieces in my collection in this blog post if you like. I'm thinking I'll film a video sharing my collection because I've actually accumulated a few more of their pieces since writing that post and would love to share them with you!
I also love the look of statement earrings as I think they are such a fun accessory and really dress up an outfit so easily! I don't have many statement earrings as unfortunately my ears are annoying and play up if I wear anything other than gold, but I'd love to invest in a few classic yet statement ones one day, because they really can make a big difference to an outfit!
4) A Nice Handbag
A nice bag can dress up and pull together a look effortlessly. It doesn't need to be expensive, you can find beautiful bags that are great quality for pretty reasonable prices!
Although I do love admiring beautiful designer bags on other fashion bloggers - Chanel and Chloe being my favourites - I have no intention of actually purchasing one myself! (Not at this point in my life anyway!)
My current favourite bag is this tan leather one from Fossil. It's a great size and I love that it's a little more structured than what I've gone for in the past. I definitely think a more structured bag looks that tad bit more polished, but of course, go for whatever suits your own personal style and works with your lifestyle!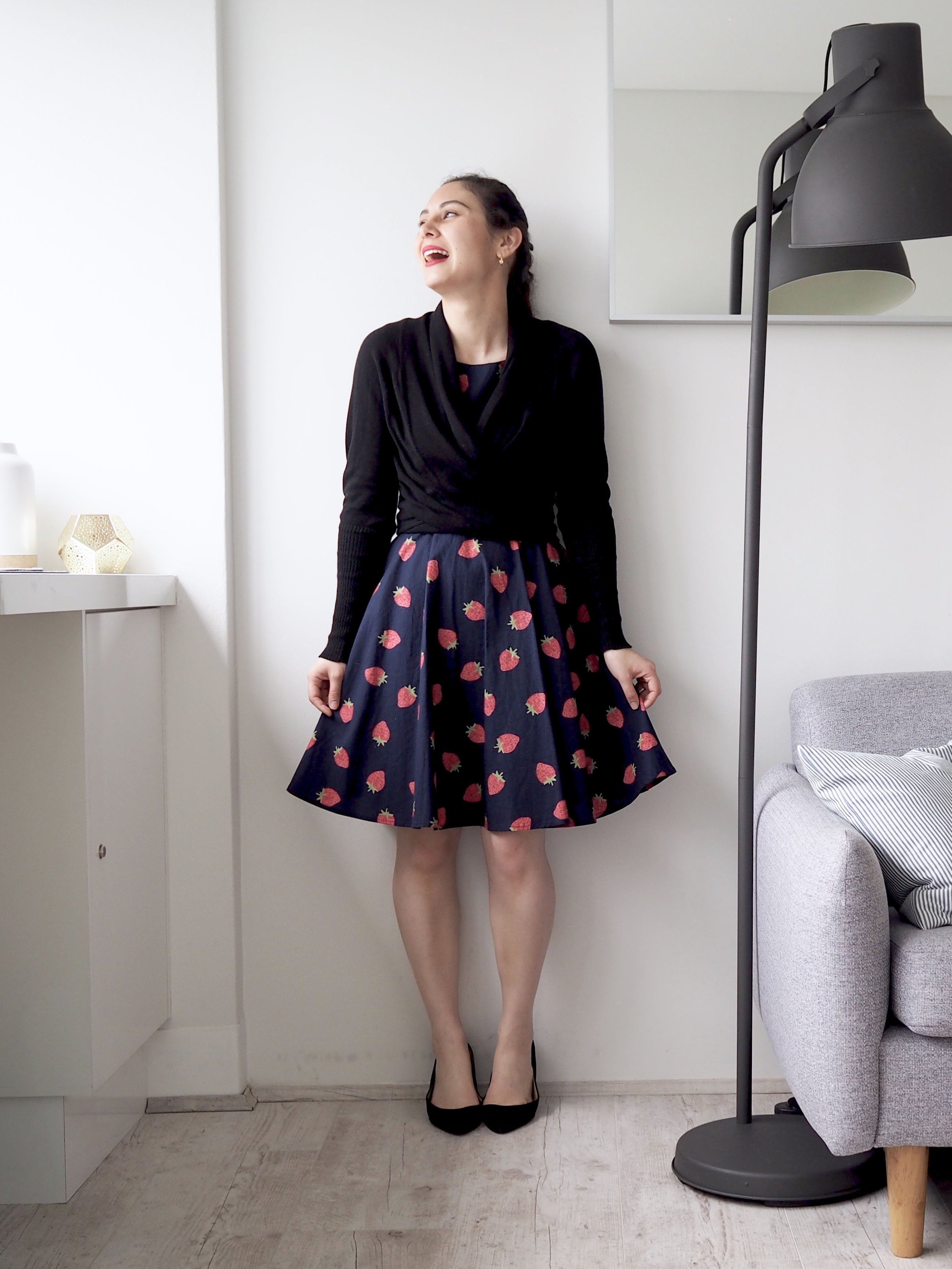 5) The Fit Of Your Clothes and The Way You Wear Them
It may be something as simple as tie-ing a knot in your top to cinch it in at the waist (see photo above), belting a dress to give a little more structure, tie-ing a button down shirt at the front to for a more casual-cool vibe or tucking it in to make it more polished...
Taking just a little time to play and get a piece sitting in the best, most flattering way can make a big difference to how you feel and how pulled together you look.
Making sure your clothes fit you properly is another big part of it. The feeling of wearing a perfectly fitting pair of jeans or a really flattering dress can make all the difference, not only to how polished your look is, but also to your confidence which is really the most important thing!
Making sure clothes fit properly should be a big priority when shopping and it seems like a no-brainer, but how often have you ordered something online, realised it's not quite right but decided you'll "make it work" because you can't be bothered returning it? I only very occasionally buy clothes online now for this reason, and if I do, I'm now super strict with myself about returning anything that's not a 100% yes!
Remember you can also have clothes altered if they need a little tweaking and it can make a huge difference to how something looks and feels when you wear it, and therefore how pulled together your outfit is (even if you've literally just thrown the pieces on!)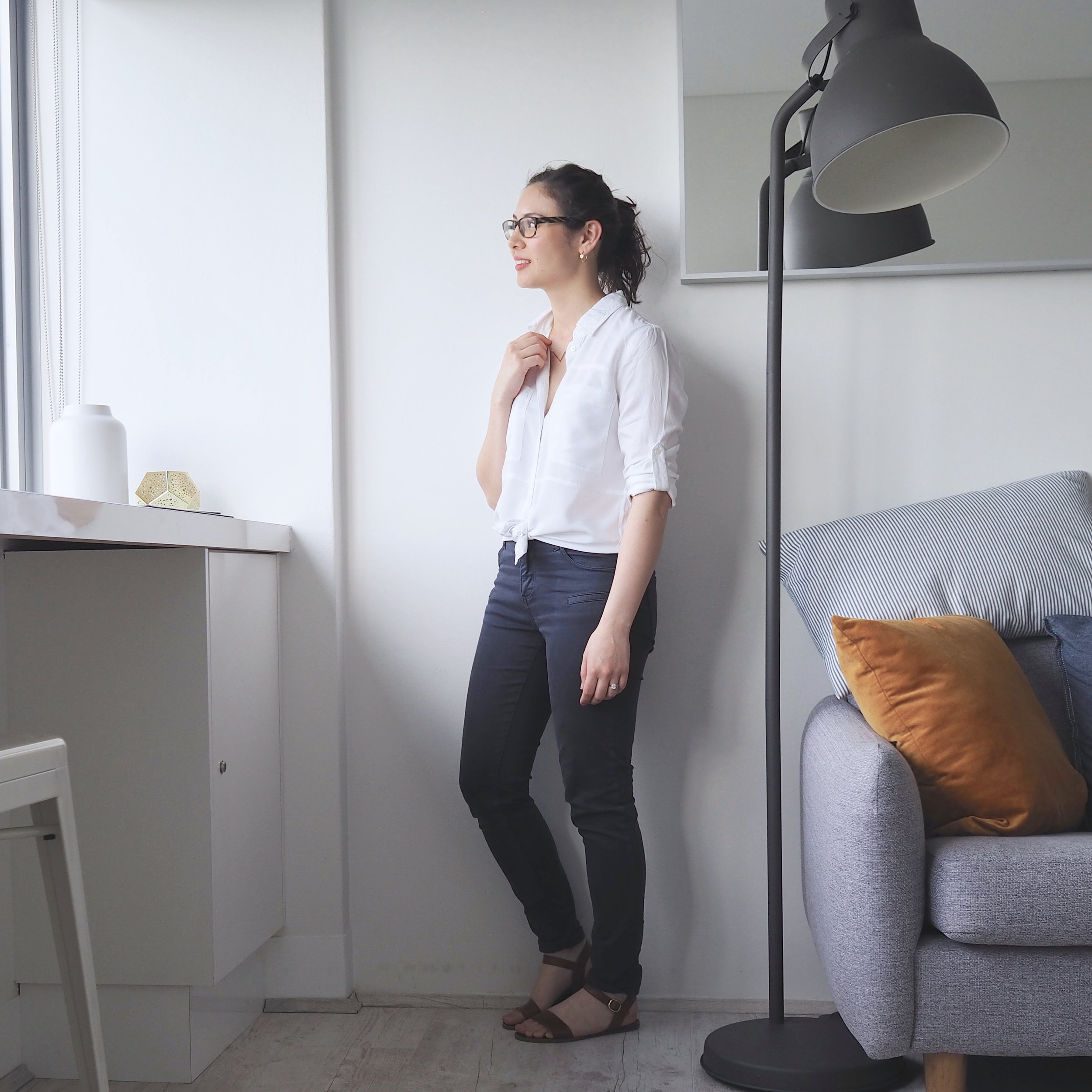 6) Statement Lipstick
Whether you're a fan of a red lip or if pink and berry tones are more your thing (or even something darker), a swipe of lipstick can do wonders in making you look and feel more put together.
I like to keep my makeup fairly minimal but I have always been a fan of the bright lip! It really is the easiest look to do and can totally brighten up your face!
If you're shy and don't feel comfortable with a super bright red, start with something berry toned and easy to wear. My everyday go-to is The Revlon Just Bitten Kissable Balm Stain in the colour "Crush", because the wear time is so good and when it does start to fade, it does so in a pretty way, rather than leaving an awkward line around the outside of your lips! This is actually the colour I wore for my wedding so you know it's a true favourite!
Nothing can quite compare to a bright red though, my favourites being the Nars Velvet Matte Lip Pencil in "Dragon Girl" (apparently also one of Taylor Swift's fave lipsticks!) and Mac's Ruby Woo.
I hope you've enjoyed and found these tips helpful! I want to reiterate that looking pulled together and stylish has nothing to do with having heaps of clothes and accessories. The key is creating a wardrobe that contains a great foundation of staple pieces, so you can play with styling them in different ways, have accessories that will mix and match with all your outfits and add that little something extra!
If you'd like more style tips or need a little help when it comes to editing down your wardrobe, particularly if you regularly find yourself thinking "how do I have so many clothes, yet nothing to wear?!" I'd love for you to check out my Free Style Course.
The video course walks you through the process of finding your signature style so you can simplify your wardrobe and feel effortlessly pulled together in whatever you throw on! Just pop in your email below and you'll be on your way to a calm, clutter free wardrobe!
As always I'd love to hear your thoughts in a comment or over on Instagram @laurennatalia.co

Lots of Love
Lauren
xxx
Want more style tips? Subscribe To The Email List!
You'll also gain access to my free Find Your Style Video Course that teaches you how to find your signature style, simplify your wardrobe and feel effortlessly pulled together everyday.